Heat'O'Bot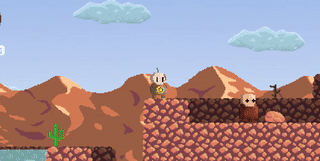 You are a Heatobot living with many others in a village in the desert.
One day the nearby river dries out. However the robots need water to function.
Because of that you decide to find out why the river dried out.
But it will be hard because the water on the way is scarce!
Controlls:
Arrows/WASD - Move
X/Mouse - Shoot
Z/Space - Jump
Gameplay:
You need to reach the end of the level
Jumping and shooting costs water
When you are out of water you start heating
When heated you recieve speed and jump boost but you take damage over time
Refill water at water pools
Collect coins
Enemies also drop coins
Updates:
Bugs fixed
Now you can exit the game using escape button :)
Heat balance and levels changed
Web version added
More coins added :0
All graphical and sound assets were made during 72 Hour HeartBeastJam
Download
Click download now to get access to the following files:
Heat'O'BotV0.4 (windows executable)
13 MB